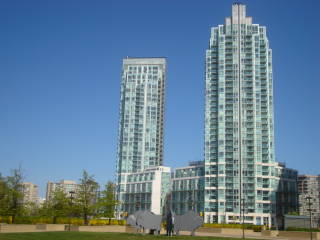 Mississauga Condo
Solstice Condos (Citygate Condos)
(Burnhampthorpe / Duke Of York)
You know you are in a special condo development the moment you approach the landscaped grounds of Soltice, and then enter the grand lobby - with its dramatic 2-storey water feature, fireplace, and conversation lounge.

Rare for a Mississauga condo, there's valet parking and shuttle service to the Go station! Rounding out the lobby's impressiveness are a 24-hr concierge, high-end fully furnished guest suites, 4 high-speed elevators, and your dedicated personal activites director to help you host and organize your social and recreational activities and events.

The two 35-storey Solstice condos (3939 Duke of York and 220 burnhamthorpe) with their striking symmetry and articulated cascade design are virtually all glass and boast amazing views from all units. Choice of suites and 2-storey lofts with 9-18 ft ceilings and floor-to-ceiling windows offer bright and airy living spaces.

Deisgner building materials throughout: engineered and hardwood flooring, rich porcelain and ceramic tiles, polished granite countertops, superior contemporary and traditional cabinetry with distinctive accent ceramic backsplash, exquisite brand name appliances, and many, many other desirable elements in every room.

The hollistically conceived spa and recreation centre on the 5th floor will recharge and enertain you. The attractions here are many: a large, luxurious indoor and outdoor hot tub + pool, a pay-as-you-go massage therapy (+ other treatments) room , a professionally landscaped outdoor patio + sundeck + courtyard, an awesome games room, a zen garden, a pilates / yoga studio with mats, and sauna and steam rooms. The professionally equipped exercise room is truly phenomenal , and includes: treadmills, elliptical cross trainer and upper body trainer, recumbant cycle, strength trainers for leg curl/leg extension, chest/incline/shoulder and lat pull/mid row, power crunch unit for working the abdominals, incline heavy lifting bench, and free weights and rack designed for cross training. There's also another oversize swimming pool with an inspiring view that will keep you in top shape.

The buildings' security is second to none. All public areas are monitored by closed circuit television cameras 24/7. There's two-way communication with the 24-hr concierge in selected parking garage locations. You can screen all your visitors from your condo suite because of dedicated closed circuit main front entrance cameras. Your suite comes with a home encoded security system; ground floors fitted with window contacts for added security.







Sales Representative
Keller Williams Real Estate Associates Inc. Brokerage
www.realestatebyberta.com
Telephone: 647-388-8826
Top 1% of Realtors in Toronto Real Estate Board
Click on condo images to enlarge.