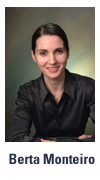 Relocation To Brampton And Mississauga
Ontario, Canada

Congratulations for considering Brampton and Mississauga as relocation choices in the Metropolitan Toronto area! Whatever you are looking for Ė whether it be professional employment, clerical or industrial jobs, a better education for your children, a safe and modern city with lots of fun things to do and see Ė itís all here. Just waiting for you!

Relocate The Easy Way!

My Name is Berta Monteiro and Iím an award winning real estate agent in Brampton and Mississauga. For years Iíve been making relocation simple for people moving here from around the world. I understand the needs of people new to Canada, and I have all the housing and mortgage information to make your move to the Metro Toronto area easy and stress-free!

I will show you great homes in your price range, in the best areas of Brampton and Mississauga. My extensive knowledge of the real estate market, and proven negotiating skills, will ensure you always get the best deal on any home.

Call me today at 905-230-0683, or use the form below.

RELOCATION ASSISTANCE FORM
Relocating To Brampton?

Brampton is the 3rd largest city in the Greater Toronto area, and among the fastest growing in Canada. It is only a 35 minute drive from Toronto. The average home prices are a little lower in Brampton than in Mississauga, and the job market here is extremely strong.


For additional Brampton information visit Relocating To Brampton.


Relocating To Mississauga?

Mississauga is an absolutely fantastic city, the 7th largest city in Canada, and boasts one of the largest financial/corporate districts in the country. It has 7 major highways running through it, a modern airport, and a university campus. Opportunities abound for new immigrants to Canada, and those relocating from other parts of the country.


For additional Mississauga information visit Relocating To Mississauga.


A Great Future Awaits You ...

If you are considering relocating to Brampton or Mississauga I would like to extend a warm welcome to you and your family, and sincere wishes for a prosperous future. If you require friendly, expert assistance with your relocation Bookmark this page for future reference and contact me through any of the methods below.

Sincerely,

Berta Monteiro
Sales Representative
Office Phone: (905) 230-0683
Fax: (905) 230-0367
Email: berta@realestatebyberta.com


| | | | |
| --- | --- | --- | --- |
| | | | Top 5% of Royal LePage Agents In Canada |

Royal LePage Credit Valley Real Estate Brokerage
Independently Owned and Operated Broker
Broker/Owner: Ron Rouse
#106-44 Peel Centre Dr
Brampton, Ontario
L6T 4B5
Serving: Brampton, Mississauga, Georgetown, Woodbridge, Etobicoke, Caledon, Vaughan, Oakville, and the GTA.